Friends, followers, and strangers... well, you're all pretty much strangers by now since I have been absent for some time. I'm really trying to get back into my groove of things because I miss it so much.
What has happened since I have been away? Twins, a new home... chaos.
I wouldn't have it any other way, though. Sure, there are some details that I would (if I could) have just skipped over and not went through at all, but those things are also what helps us to grow and change.
Anyways, although I haven't really been blogging or doing much writing at all for a long time, I still have been taking photographs and designing any time I get the chance. It's a power struggle, but I refuse to let life consume me and I forget my passions.
That does happen you know... sometimes we just get too busy to enjoy life. Too busy to enjoy the little things. We're always in a rush to get somewhere or to cook, clean, and then go to sleep so we can do it all over... and then we miss it. We miss life. It is right in front of us and it's beautiful. We simply don't stop, breathe, and take it all in.
That's what I love about photography. That is mostly what this blog was meant to be about... photography. It is all about capturing the moments, people, things, and places that matter most to us. It helps us to kind of freeze life for that instance, and then we can keep going back to it over and over as we look at the images. Memories unfading... especially now that we have online photo storage.
In one of my last posts(forever ago), I told you about my twin boys. Well, they will be 2 years old soon- next month in fact- and we're super excited! They have so many things that they love, that we just aren't sure what theme to go with for their birthday this year.
Last year we went with Minions and it was perfect! We even had a minion for a cake! Well, it was a bunch of cupcakes placed together to make a minion... but it was a hit! Check out one way to make your own minion cupcake cake here.
These are some of my ideas for their party this year. I just love these invitations, they are adorable!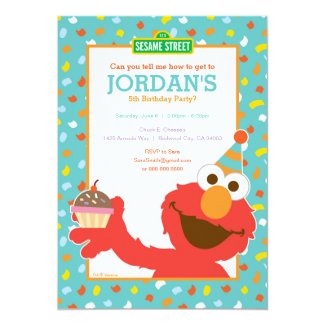 I love this Elmo themed Invitation. The boys really love Elmo right now... I think it's the sound of his voice that gets their attention. They definitely favor Elmo over the other Sesame Street puppets.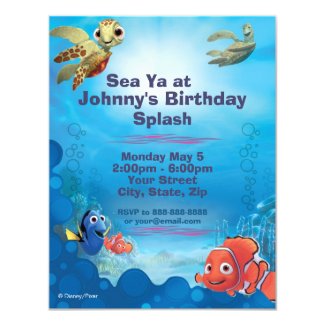 My husband and I took our boys to see an aquarium in Charlotte, NC about a month or so ago, and now they are absolutely in love with all things fish. They can't say "Fish" yet, but they are definitely working on adding that to their vocabulary. Finding Nemo and Finding Dory are big hits in our house now... not that I didn't love them before they were 'cool'.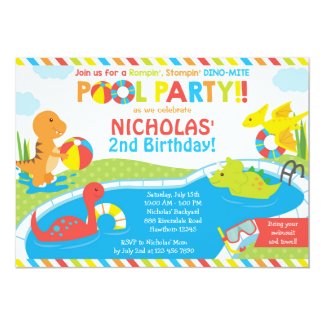 Finally, this is also a favorite. I love the vibrant colors and the theme of the dinosaurs by the pool. My kids have a summer month birthday, so having an outdoor pool party wouldn't be a terrible idea to keep people cool, all the while getting to enjoy the weather.
This past Christmas, my sister who is in the Army (so proud of you sis and appreciate all you do for our country), sent the boys a bulk pack of toy dinosaurs. Since we have been learning the names of the dinos and learning what they eat too. They absolutely love dinosaurs now... their favorite thing to say is "RAWR!!". I guess it's a good thing I know that Rawr means "I love you" in dino.
Get out Amazon for your little one some cool Dinos